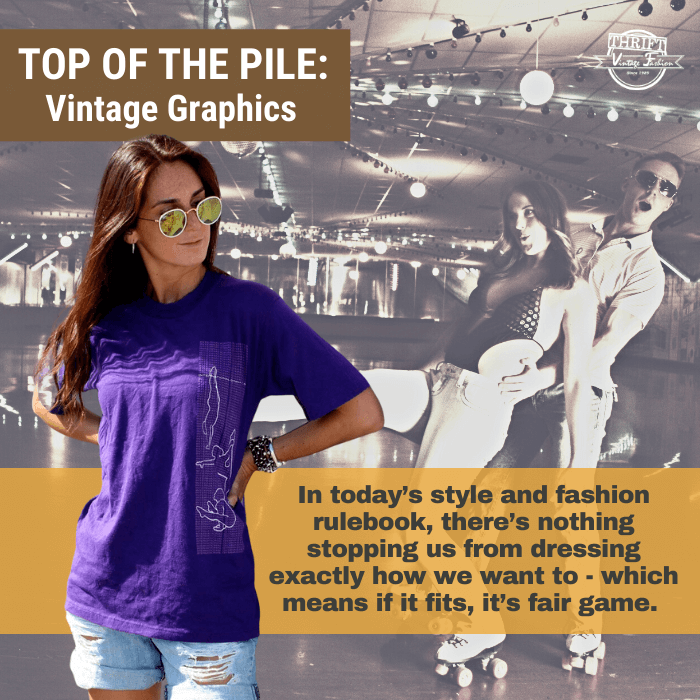 Top of the Pile: Vintage Graphics
Vintage clothes tell a story. Gain access to clothes that are conversation starters by shopping our collection of Vintage Graphic Tees curated by our in-house Thrift Experts. The unique designs in our collection range from the 1980s, 90s, and early 2000s, featuring one-of-a-kind illustrations, promotions from oddball brands, snazzy slogans, and artwork from all areas of popular culture.
Shopping vintage is all about giving you the tools to build your own style, free from the mass-produced, mainstream trends that bombard us at the mall and fast fashion stores. Maintain your cool with these pop culture finds, including a combo of music, media, entertainment, television, movies, sports, politics, fashion, and technology. Marketing and advertising has a long, storied history in modern consumer culture and has produced some of the most lasting trends in fashion.
Thrift Vintage Fashion is all about preserving these trends for future generations because you know...what goes around comes around again! We've all been there. Celebrity and mainstream styles we loved in our childhoods are coming back into fashion, from bell-bottoms of the 70s to the scrunchies and mom jeans of the 90s.
Style never dies, but it does fill up our landfills really fast. Thrift Vintage Fashion is part of a thriving thrifted clothing industry that seeks sustainability in fashion. Sure, we don't all want to dress alike, and having variety and exclusive designs is highly sought after by celebrities, stylists, fashionistas, and style-conscious individuals of all genders and ages. But we also want to make the future a better place for everyone. This is one way you can save the planet and look good at the same time.
Vintage graphic tees are popular, versatile, and have endless variation. Mixing, matching, purposefully clashing - we've got you covered! Our Thrift Experts handpick your order to include a variety of stellar options. Many tees are made of 50/50 Cotton/Poly blend, while some shirts from the 90s are 100% Cotton. You'll find mixed sizes from S-XL, with a percentage being XS or 2XL+. 
In today's style and fashion rulebook, there's nothing stopping us from dressing exactly how we want to - which means if it fits, it's fair game. These days, tshirts from the 80s, 90s, and 2000s are worn by any gender and considered gender neutral and unisex, even if they were originally made for men. What's sought after is the design and artwork. The more strange and unique the design, the more desirable the garment becomes.
You can expect to turn heads in vintage tees. These designs are funny, weird, cute, historical, and you can wear them for their irony or intrigue. We get dressed in order to proclaim our unique expression of individuality. We want people to know us from our appearance. Our outfits tell a story every time we step outside. What tale are you telling with your outfits? With the fun finds in our Vintage Graphic Tees collection, you'll quickly see just how distinctive your closet can become with a few additions from our epic collection of trendsetting thrifted threads.
SHOP VINTAGE GRAPHIC TEES FOR YOURSELF