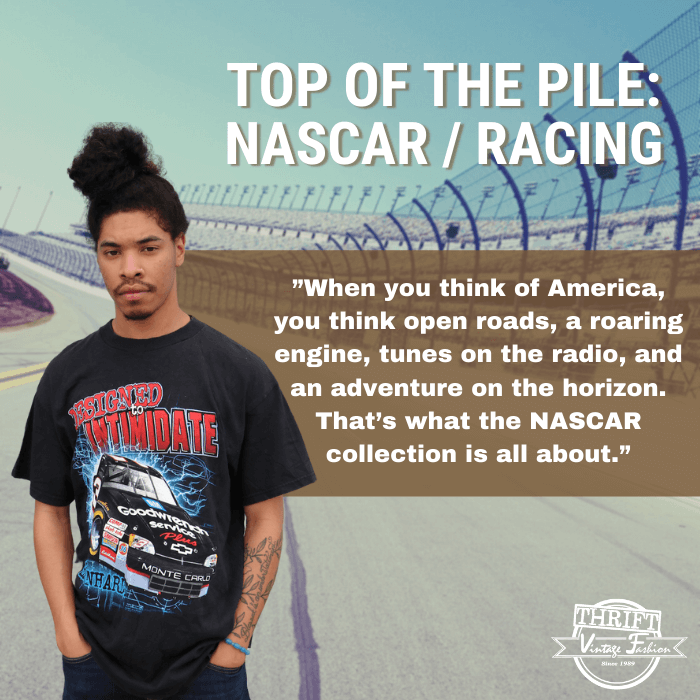 Top of the Pile: Nascar / Racing
"Gentlemen, start your engines!" We've all felt it, right? The light just turned green, we've got the pedal to the metal, our car is going as fast as she can and we're taking a tight curve in the road like a hot rod. Sure we're just driving home from work, but for a split second? Racecar driver. We're talking NASCAR level racecar driver.
At Thrift Vintage Fashion, we knew it was important to create a NASCAR collection. We know that millions of folks appreciate the classic Americana of these designs from the 1980s, 90s, and 00s. Motorheads, gearheads, and car, truck, or motorcycle enthusiasts love everything to do with combustion, speed, and the brands that make up the automotive industry. When you think of America, you think open roads, a roaring engine, tunes on the radio, and an adventure on the horizon. That's what the NASCAR collection is all about.
Mustangs, Monster Trucks, Moto Cross, Formula One, Talladega – you've heard of these forever favorites of car culture without having to watch ESPN or fill the stands at a major raceway. Maybe you went to a classic car show as a kid. Maybe you remember the commercials for Monster Truck rallies. Or maybe on the news you heard of a notorious raceway. Racecar drivers are infamous, and their reputations are wild.
Then there are the fans. Sporting NASCAR gear, just like the peak performance racecars are all wrapped in brand logos. Fans celebrate by repping the logos of the companies they respect. They back the brand from tire to engine to driver. The pit crew is ready. The drivers are gunning their engines. We're all waiting for the wave of a flag. Every single fan hopes to see the race of a lifetime.
The danger, the suspense, the victories. It's as high energy as any other sport, maybe moreso. NASCAR is a culture, and its fans are everywhere. From admirers of the drivers, like Dale Earnhardt, Tony Stewart, or Richard Petty, or enthusiasts of the vehicles and manufacturers, like Ford, Dodge, or Goodyear, the NASCAR industry is a thriving one, filled with millions of individuals seeking a thrill ride and a cool outfit for the journey.
Let's face it: we're a car-obsessed society. From the Model T to the '56 Chevy to every kid who had a Tonka Truck – America loves its cars. We have a rich history in automobile design and manufacturing, living in steel towns, and always rooting for the home team. Showing off our cars is a good way to spend a Saturday for many families across the country.
So when taking into account the massive industry, our Thrift Experts knew that our vintage NASCAR clothing collection had to feature classic shirts, most made for men but loved and worn by women, all featuring wicked designs from memorable brands. Whether you're buying for your own kickass wardrobe, or stocking new and unique finds in the women's and men's section of your shop, you'll be pleased to see the response from all types of customers. Remember, it's not just fans of NASCAR that wear these shirts. It's anyone who's put the pedal to the metal...