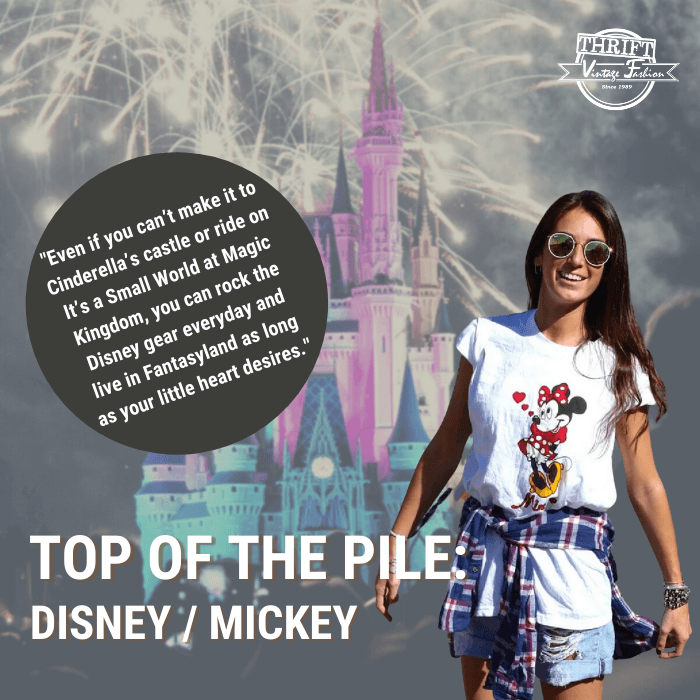 Top of the Pile: Disney / Mickey
It's kind of fun to do the impossible. Those are wise words from Walt Disney himself, creator of the most magical place on Earth. The Disney universe is ginormous, filled with childhood memories and fantastical wishes brought to life. Not to mention our favorite characters of all time, Mickey and Minnie, Goofy, Peter Pan, all the Disney Princesses, and even lil Pooh and Piglet, too. Known all over the world, these characters have been with us since we were tiny tots, and we love them.
Living amongst the magic of animations and classic characters are the fans themselves. Imagineers, Mouskateers, Disneyphiles, whatever you call them, Disney fans are at the core of the most magical empire on Earth. Disney is a multi-billion dollar industry, and it brings endless joy to millions of people. The Disney Empire is complete with movies and merchandise, publishing and games, parks and resorts - the list goes on and on. But of all this revenue, it's the direct-to-consumer revenue that is Disney's number one moneymaker.
Long story short? Disney merch and clothing is wildly profitable, and its fans outnumber any other industry. It can be dizzying to think of the numbers – millions of fans posting to groups online, millions buying tickets and traveling to resorts and parks, millions of kids and adults shopping for clothing. These fans are everywhere, and they want to proclaim their Disney love on everything they own. Wearing Disney gear is an everyday occurrence, and it isn't just for kids. The Disney adult is a consumer every business owner wants to have.
Iconic doesn't even cut it when you're talking about Disney. Stores and businesses everywhere are finding that their Disney customer base appeals to all age groups and genders. Every kid on Earth has a memory of Mickey Mouse, or the visage of Cinderella's castle on the horizon, and this inimitable brand logo and memorable characters are on everything from keychains to t-shirts to bedspreads. Fans of the many characters can pick a different outfit every day for a month and still not repeat the same character twice. Talk about options!
Wouldn't you want to stock your store with a sure thing? Inventory that's never going out of style is hard to come by, but Disney clothing has been a sure thing for decades. When you choose to shop with Thrift Vintage Fashion, you can expect to receive lots of Mickey tees with other classic Disney characters from the 1980s, 1990s, and 2000s. You may also get a few famous characters from other cartoons, like Looney Tunes. Our thrift experts handpick from our vast warehouse of vintage clothes to make sure your order is not only in quality condition, but featuring an array of Disney greats.
Even if you can't make it to Cinderella's castle or ride on It's a Small World at Magic Kingdom, you can rock the Disney gear everyday and live in Fantasyland as long as your little heart desires. With a wave of Tinkerbell's wand, all your Disney dreams can come true. Whether you're a Mouskateer or the owner of a vintage clothing store, you know how Disney fans can be. The heart wants what the heart wants… and what the heart wants is more Disney! 
SEE WHAT YOU MIGHT FIND IN A DISNEY WHOLESALE BOX!
GET YOUR OWN BOX HERE!