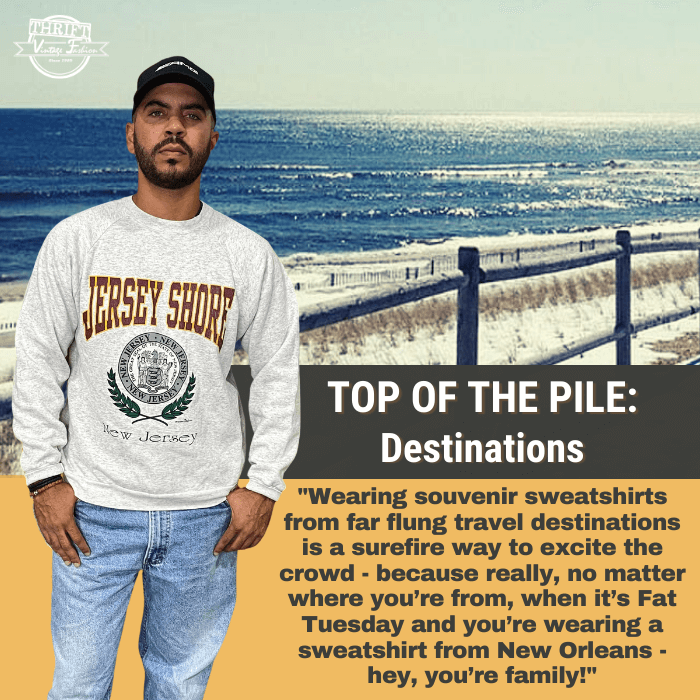 Top of the Pile: Destinations
From sea to shining sea, we love thrifting. Souvenirs come in many forms, from trinkets and treasures, to sweatshirts and beanies. Let's travel and see all the wonders of the world. Let's mail postcards to Mom from all our fave destinations. Let's journey to the most popular grunge music spots in Seattle. Let's get deep dish pizzas in Chicago. Let's visit the tallest skyscrapers in New York City. And then let's hit the gift shop!
From the endless coastline of California to the mountain peaks of the Colorado Rockies - when it's time to travel, this country has some epic destinations. Hop on the train, or cruise the highways, but make sure to taste the difference between Carolina and Texas barbeque. Don't forget when you're waiting at the airport, you've got to check for Florida fridge magnets with gracefully soaring dolphins, or that Arizona desert sunset keychain with your bestie's name on it. 
It's so hard not to buy up all the souvenir treasures and clothing from the places we travel. Every vacation is a chance to collect moments and experiences, to make lasting memories for the whole group. We love commemorating a good time, a joyous occasion, or a major milestone. There's a booming tourism industry that thrives on our tourist dollars buying up the cute knick knacks, slick hats, and comfy hoodies. We want to carve this amazing memory in stone - or at least make sure we have a San Francisco sweatshirt to remember the foggy mornings on the bay. 
Thrifting is a fabulous pastime, especially when traveling. And it's something you can do all over the world. At Thrift Vintage Fashion, we just make it super easy to get your hands on distinctive thrifted clothing. Our niche collections are broken down into some of the most exciting categories we've found in our decades of thrift adventures. As a company, we're all about making thrift shopping accessible to you. So let's travel the world together, with just a click! 
Soon after you place your order, a mystery box will arrive filled with sweatshirts from well known travel destinations around the world. Most of these destinations are within the USA but may also include other countries as well, because you know we get around! And for business owners, we know exactly what you need for your stock and showroom. You'll have a blast shopping with us wholesale, receiving handpicked bundles from within our unique collections, and adding a varied mix of quality thrifted clothing to your inventory. 
Souvenirs aren't just for travelers anymore. Sometimes the best way to inject a little interest into your wardrobe is to get those quirky clothing finds that start a conversation. Because you know it's true, we LOVE our home turf. Whether we grew up there, went to college there, vacationed there, or escaped there after living at home - where we're from is a major part of our identity. 
Let's rep our hometown. ALL our hometowns. Wearing souvenir sweatshirts from far flung travel destinations is a surefire way to excite the crowd - because really, no matter where you're from, when it's Fat Tuesday and you're wearing a sweatshirt from New Orleans - hey, you're family!