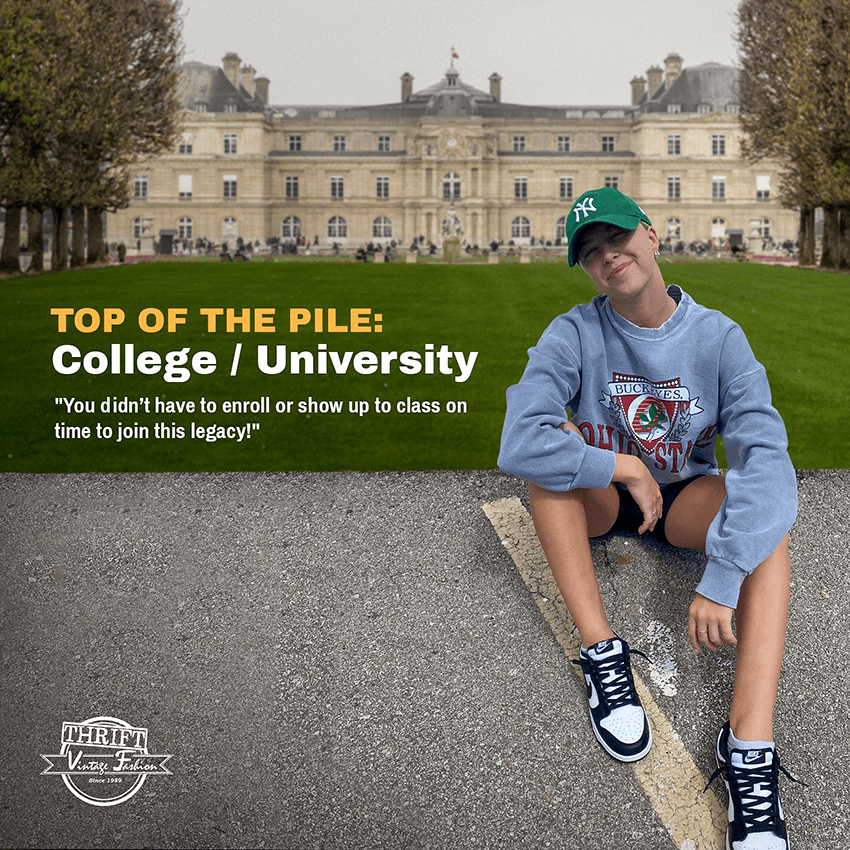 Top Of The Pile: College / University Tees and Sweats
Nothing says Americana like a college sweatshirt. It doesn't even have to be YOUR alma mater to give you a sense of legacy and pride. It's all about rooting for our favorite teams and enjoying a common experience of the youth of America - even if that experience was just from watching too many 80s movies. You've got your jocks with the school smarts and your brainiacs with the stack of books and pompoms. College gave us lifetime friendships, unbreakable traditions, and a classic look that's never gone out of style.
These college threads keep memories. Get reminiscent about practicing for regionals, running the mile, keeping you warm between plays or between cheers. Cotton gets softer over the years, becoming your favorite fitting thing in your closet like an oversized hoodie you stole from your boyfriend. Sometimes clothes just feel like home away from home. Hoodies, pullovers, sweatshirts, t-shirts – they're all made for comfort and functionality. Add to that decades of memorable logos, state names, sports teams, famous universities, infamous colleges – these old designs transport you to straight to the dorm rooms, keggers, and classrooms of our collective memories.
Your new-to-you collegiate sweatshirt may have experienced rushing the field for the winning team, campfires, or frat parties. They've sat through sooo many classes. Before some of your parents were even born, college and team sportswear spiked in popularity in the 60s. It kicked winning field goals into the 70s. It became an unstoppable MVP style in the 80s. By the 90s, university wear became legendary. Nike, Adidas. Massachusetts, Tennessee. Wildcats, Pirates.
You didn't have to be there to remember the experience. You didn't have to matriculate or show up to class on time to join this legacy!
University pullovers, college sweatshirts, sports team t-shirts – these are part of American history now. They're nostalgic and retro, worn and styled effortlessly, and comfortable enough for working out in your garage, or working on your throwing arm in the backyard, or even working on the next great American novel.
For the youthful and style conscious among us, college wear offers quick outfit options that have personality. These branded shirts are good conversation material at the bar - imagine a corn-fed Nebraskan buying you a round because you're wearing a thrifted Cornhuskers shirt! Let us surprise you. We pick the finest vintage threads. Our College & University T-shirt Bundle is a goodie bag of classic clothes that, if we have the arithmetic right, mega quadruples your outfit options.
Check the math, but we're positive you'll be thrilled about all these stylish choices showing up in your mailbox. Frat boys and sorority girls know better than to spend their precious beer money on expensive clothing. You've gotta be spendthrift when you're in college, kids! Save those pennies for chips and dip, not fast fashion with zero personality.
No matter what generation you grew up in, from Boomers to Millennials to Gen Z, being thrifty and scoring deals is as American as apple pie and Monday night football. Shop Thrift Vintage Fashion and you'll see. What was once mass-produced for entire generations of sporty, stylish Americans, well, it's now ONE OF A KIND to you. And we love this look on you. Be school smart, be your unique self, and be frugal by shopping handpicked vintage fashion with us. GO TEAM!
P.S. Don't forget, there's a rally on the quad for climate change! We all have to chip in and do our part. We can start with recycling, reusing, and repurposing our most used items in life. Thrift shopping for your clothes is one step in the right direction toward saving the planet. Go, go Mother Earth, we're rooting for you!
Check out the College / University Category for Sweatshirts and T-Shirts