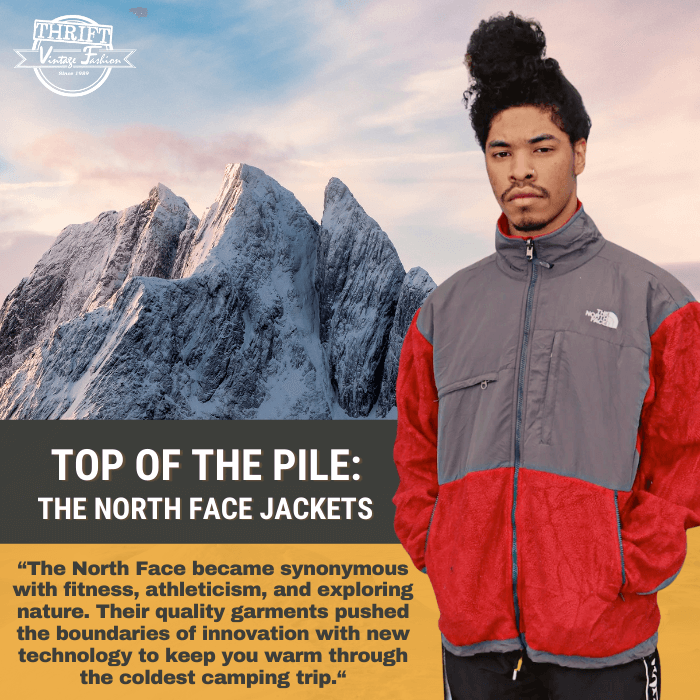 Top of the Pile: North Face Jackets
Never Stop Exploring. That's the North Face motto, and boy do fans of their outerwear live up to it! We are very proud to offer a collection of secondhand North Face jacket styles, including fleece materials, rain coats, and puffer down jackets. These quality constructed items are geared for intense outdoor activity, and built to last season after season. And it's not just rock climbers and hikers and skiers that love these outdoorsy threads, it's also indoorsy folks, too. They're great for staying warm while running errands, or doing a little work in the garage or backyard. Everyone can benefit from a little North Face in their lives.


Did you know? The North Face is named for the coldest, most unforgiving side of a mountain. Founded in San Francisco in 1966 by two hiking enthusiasts, the North Face started as a small mountaineering retail store. Since then, they've gone on to help explorers reach the most unfathomable heights of the Himalayas and ski down the steepest slopes of the Rocky Mountains. Whether you're walking a brisk pace in Central Park, or high tailing it through Costco, these cozy and comfortable jackets will provide you with warmth and epic style.

Through the 1960s, The North Face brand built a following of athletes and began sponsoring expeditions to some of the most far-flung corners of the globe. They quickly became the only supplier in the United States to offer a comprehensive collection of high-performance outerwear, skiwear, sleeping bags, packs and tents. The North Face half dome logo began to appear on marathon courses, high-country trails, and climbing walls.
The North Face became synonymous with fitness, athleticism, and exploring nature. Their quality garments pushed the boundaries of innovation with new technology to keep you warm through the coldest camping trip. Their designers wanted to make sure you could push the boundaries of exploration, so they created athletic wear that could withstand anything.

At Thrift Vintage Fashion, we know firsthand that many clothing brands last only a single season and that typical wear and tear can wreak havoc on poorly made garments. That's why we hunt for Grade A thrifted fashions, ensuring our clients and customers receive quality secondhand clothing at affordable prices. We carry mens and womens styles of North Face jackets, so choose what works best for you or your customers.
Our reputation is important to us, and our customer and client experience is paramount. We want you to be a satisfied shopper, and that means providing excellent service and top-notch products. Reliability means you can keep coming back to us, knowing you won't be disappointed with the thrifted fashions that arrive at your doorstep. And we know that many of our clients also have customers relying on them for a quality thrift experience. It's this customer relationship we value above all else!

When you're faced with the job of buying inventory for your store, or stocking your own personal closet with items you'll love, we hope you'll think of Thrift Vintage Fashion and our in-house team of Thrift Experts who are here to make sure that you (yes, you) are a very happy camper.
THE NORTH FACE JACKETS MYSTERY BOX
THE NORTH FACE JACKETS WHOLESALE