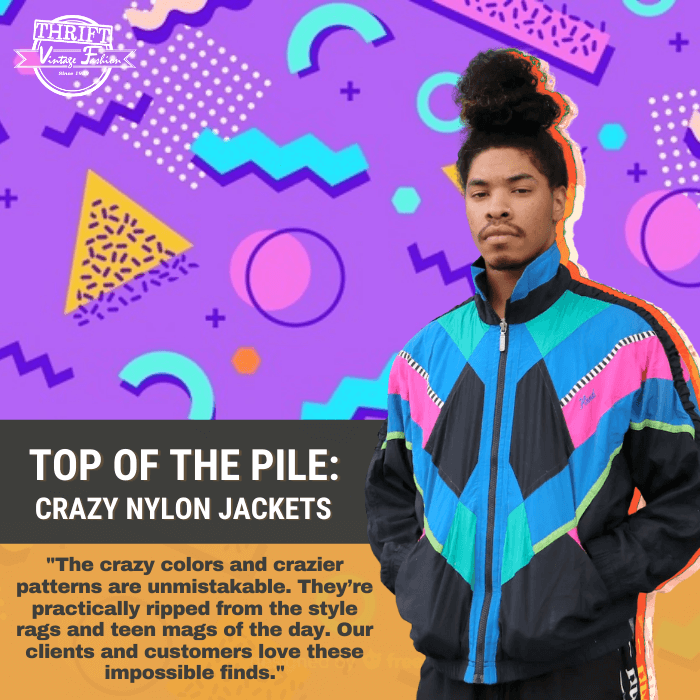 Top of the Pile: Crazy Nylon Jackets
YO YO YO! These jackets are P.H.A.T.!!! And when you put one on, the 90s are back in full effect!! The drip. The swag. Those words weren't invented yet. But this bangin style?? DA BOMB DIGGITY! We love these Crazy Nylon Jackets so much. They elevate any outfit with an impossibly high cool factor. All ages, sexes, styles - these badboys add flavor to your punch! Authentic style, crazy patterns, and let's not forget the street cred. 
The crazy colors and crazier patterns are unmistakable. They're practically ripped from the style rags and teen mags of the day. Our clients and customers love these impossible finds. So who wears these amazing Crazy Nylon Jackets from the 1980s and 1990s? Who are our clients you may ask? Professional fashion stylists? Buyers for celebrities? 20, 30, 40 somethings? Boutique vintage clothing stores? The answer is yes, yes, yes, and yes! 
Our clients know that Thrift Vintage Fashion is a central resource for quality secondhand fashions. We feature styles that other thrift stores can't possibly find in this quality and quantity. Yea, we got it like that. Most of these nylon jackets were originally made for men, and are sold in mens sizes. But today, gendered clothing isn't going to stop the stylish folks who want what they want. Women rock these fashions, too! We ship these fantastic finds all over the world, to anyone looking to expand their fashion choices. 
You know the term, what goes around comes around? Nothing speaks to the meaning of that phrase like fashion. Style trends, whether quirky or serious, street or runway, always seem to move in cyclical patterns. Like bell bottoms of the 70s making a huge comeback for the second time, we love watching the styles of the 80s and 90s resurface. While it brings some of us seasoned fashionistas back to our junior high school days, for others it's a fresh take on fierce looks. 
Our Thrift Experts love being able to offer quality, affordable fashions that are actually unique! Like, you're not going to cruise the mall with your squad and run into someone wearing your exact crazy patterned jacket. No way, man! This is all you. For form, for function, for fun, these jackets are just waiting for the right person to style them. Try layering these jackets over our vintage tank tops and sick collection of vintage Levi's jeans. You won't believe how easy it is to pull together A LOOK with singular pieces like this. 
The thrifted clothing industry is booming, and we love to see it. Forgotten are the days where you're forced to dig through bins of clothes. Leave that to us! The hunt is fun, but it's THE FIND that many thrift shoppers love the most. Shopping with Thrift Vintage Fashion means you get spectacular finds right to your front door, picked and packed by our excellent Thrift Experts. 
So you want to look fly? Come and get it, shorty!