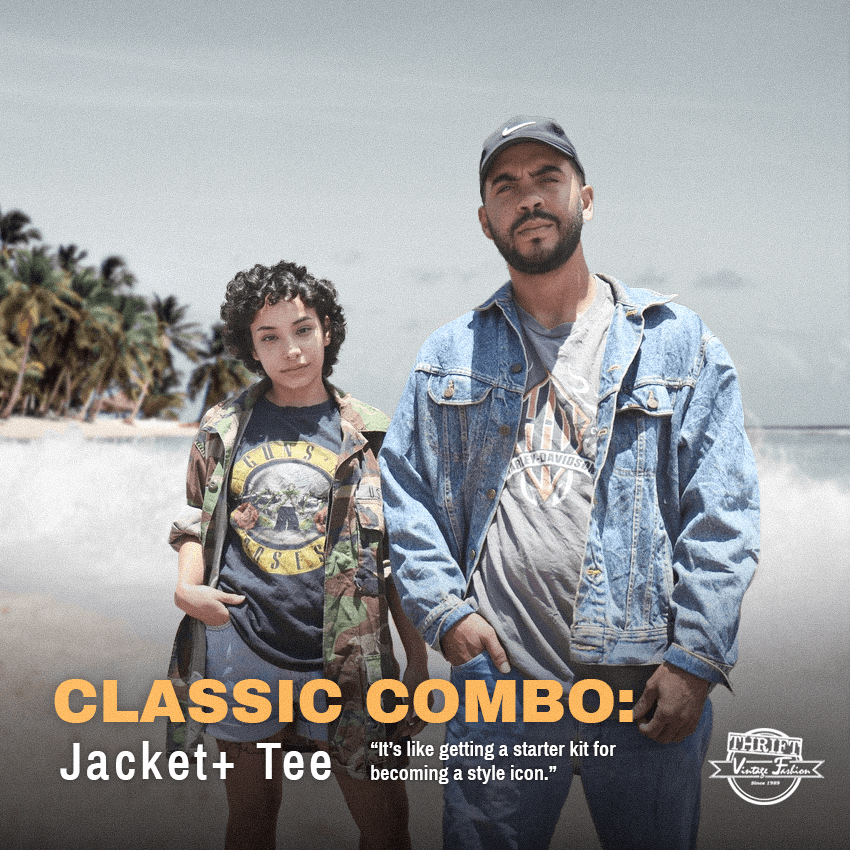 Classic Combo: Jacket + Tee
For the Fashion Savvy:

There's nothing like thrifting a kickass outfit that makes you feel like a rock star. Not everyone has the budget, the team of stylists, the roadies and groupies waiting backstage. But we still want every outfit to be a showstopper, and we want our personal style genius to be in the spotlight. Ok, so you may not be backstage getting primped and primed, but you're here, you're one of us – a savvy and stylish babe who is frugal and fierce.

Meet our Jacket + Two Tees combo bundle – it's like getting a starter kit for becoming a style icon. You don't have to do anything else… just don these garments and rock on!
Vintage seekers and shoppers know a good deal when they see one. Snag these closet staples that are reminiscent of 90s grunge kids, 80s metal heads, and 70s rock stars, and you can make endless outfit combinations with our Jacket + Two Tees bundle. With categories ranging from Rock to Harley to NASCAR to Disney, we've got you covered, literally! Express your personal interests, explore your personal style, and introduce fun and funky options to your clothing collection. Get all the likes on Instagram with these unique designs that aren't available anywhere else!
There is nothing like finding a treasure trove of secondhand, well kept, quality vintage clothing. Hunting through bins, cruising garage sales, picking through consignment stores, it's fun, but it gets tiring to dig and dig. You're a busy bee, so let us pick for you! We are home to 1000s of vintage threads, and each item can complement a different style you're going for. These versatile styles look good on every body – men, women, and pop stars alike.
For the Sustainability Minded:
You know what's cool right now? Aiming for sustainability. We have to weave sustainability into everything we do. And what does everyone do? We get dressed. Knowing where your clothing comes from is a big deal. But even if we could all afford new, ethically made fashion, it's really important that we embrace repurposing what we already have. Thrift Vintage Fashion is loaded with classic clothing that gives a new life to a garment that took a lot of resources and labor to create.
Sometimes, it's up to little ole you to make an impact. Yea, you. Big things happen when people make decisions that are good for the planet AND their wallet. You're fashion forward, you care about Mother Earth, and you want to look like a badass. We get it! We want to reduce our collective carbon footprint and need your help. By making the decision to shop Thrift Vintage Fashion, you're helping to limit the pollution that fast fashion creates.

Did you know? Business Insider put together a disturbing article on just how damaging the clothing industry has been to our planet. It's the second largest consumer of water in the industrial world? Whatttt? "The equivalent of one garbage truck full of clothes is burned or dumped in a landfill every second." Whatttttt? At Thrift Vintage Fashion, that breaks our collective heart. Fashion production comprises 10% of total global carbon emissions, which is as much as the European Union creates.  That's 27 countries if you didn't know.
The sheer magnitude of the fashion industry's impact on our planet is frightening. And the clothing being made, by companies H&M or Forever21, may just cost you $20…but in a year, it falls apart. And when it's not good enough to become secondhand, it goes to the dump. And yes, there are many brands being created to combat this effect, but they're still making *new* creations, requiring tanneries, dyeing, and yes, terrible labor practices. Cringe!
Thrift Vintage Fashion is a fourth generation, family-owned business that is hell bent on changing the way people shop for clothes. Snag our Vintage Jacket + 2 Tees bundle – it's a surefire way to refresh your closet, double your daily outfit options, and introduce some killer retro outfits to your life. Help us save the planet, one timeless outfit at a time.
Source: https://www.businessinsider.com/fast-fashion-environmental-impact-pollution-emissions-waste-water-2019-10#the-fashion-industry-is-also-the-second-largest-consumer-of-water-worldwide-14  Business Insider*