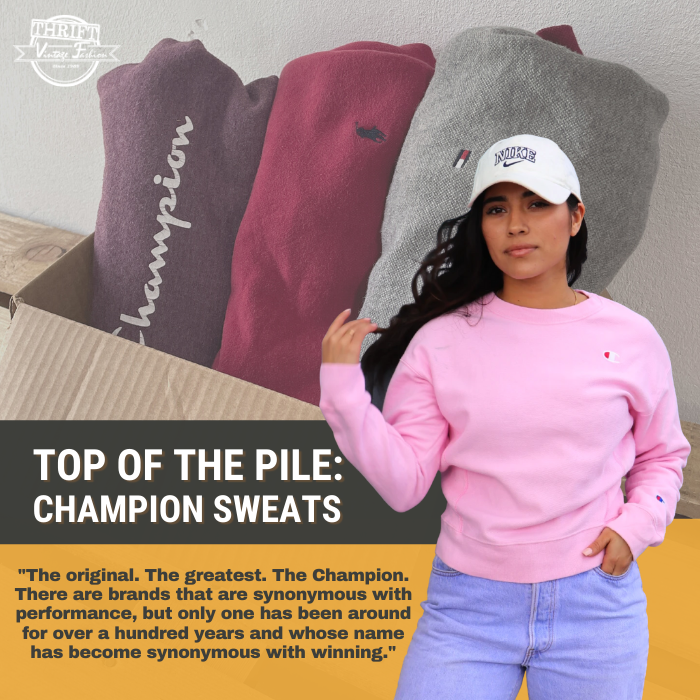 Top of the Pile: Champion Sweatshirts
The original. The greatest. The Champion. There are brands that are synonymous with performance, but only one has been around for over a hundred years and whose name has become synonymous with winning. 
Champion. Their sweatshirts are the benchmark in quality for sportswear. In 1919, the Feinbloom brothers took a rough and tumble football athleticwear industry and gave it serious purpose. One of their first big partnerships was with their local college football team, the Michigan Wolverines. The brothers quickly signed contracts to design and manufacture uniforms for college sports and football teams, and many universities began printing their emblems on Champion sweaters to use as their exclusive merchandise. Authenticity was important, as was representing your turf and team. 
"It Takes a Little More To Make a Champion." The new Champion motto began to appear on advertisements, promotional gear, and anything to do with athletes in competition and tournaments. Word spread from college to college, team to team, and coach to coach of their garments' durability, quality, and reasonable cost. Champion patented their "Reverse Weave" technology, which prevented shrinking after a wash (which was actually a big problem back then!). In the 1970s, they even invented the Sports Bra - by sewing two jockstraps together! This was a HUGE win for women in sports. But what was the most iconic creation to come from Champion? Nylon basketball jerseys. There is no doubt that these are beyond hyped, on and off the court. 
Champion is all about innovation. In the 30s, they invented the hooded sweatshirt (yes, THEE hoodie) for winter workers. It didn't take long for the US military to see the value in Champion clothes. They began using their garments for winter training, physical performance drills, and more. But nothing in their history comes close to blowing away the competition than when Champion teamed up with professional basketball teams to create sponsored hoodies to be worn on the bench, or during practice, or snapped by photographers while players paraded the streets. 
Classic like American pie. The crew neck or hoodie sweatshirt, like a well-fit pair of Levi's jeans, will forever be known for having its birthplace right here in the States, alongside such favorites as hot dogs, cheeseburgers, and Coca-Cola! ...and football! ...and basketball! The list goes on. 
At Thrift Vintage Fashion, we are committed to preserving the timeless trends and styles of American fashion, while also providing a reputable resource for quality secondhand garments. You can expect to get a variety of crewneck and hoodie styles, which were originally made for men but today are worn by all genders and age groups. Our Champion collection includes a variety of mixed graphics and solid logos printed on Champion sweatshirts that are hand selected by our Thrift Experts. 
Champion has a reputation that comes with decades of dominating the styles of celebrities, sportscenter superstars, hiphop moguls, and so many others. We know your customers will love having a selection of vintage Champion sweatshirts to choose from, because they've been popular since… well, since before the sports were even born! 
CHAMPION SWEATSHIRTS MYSTERY BOX