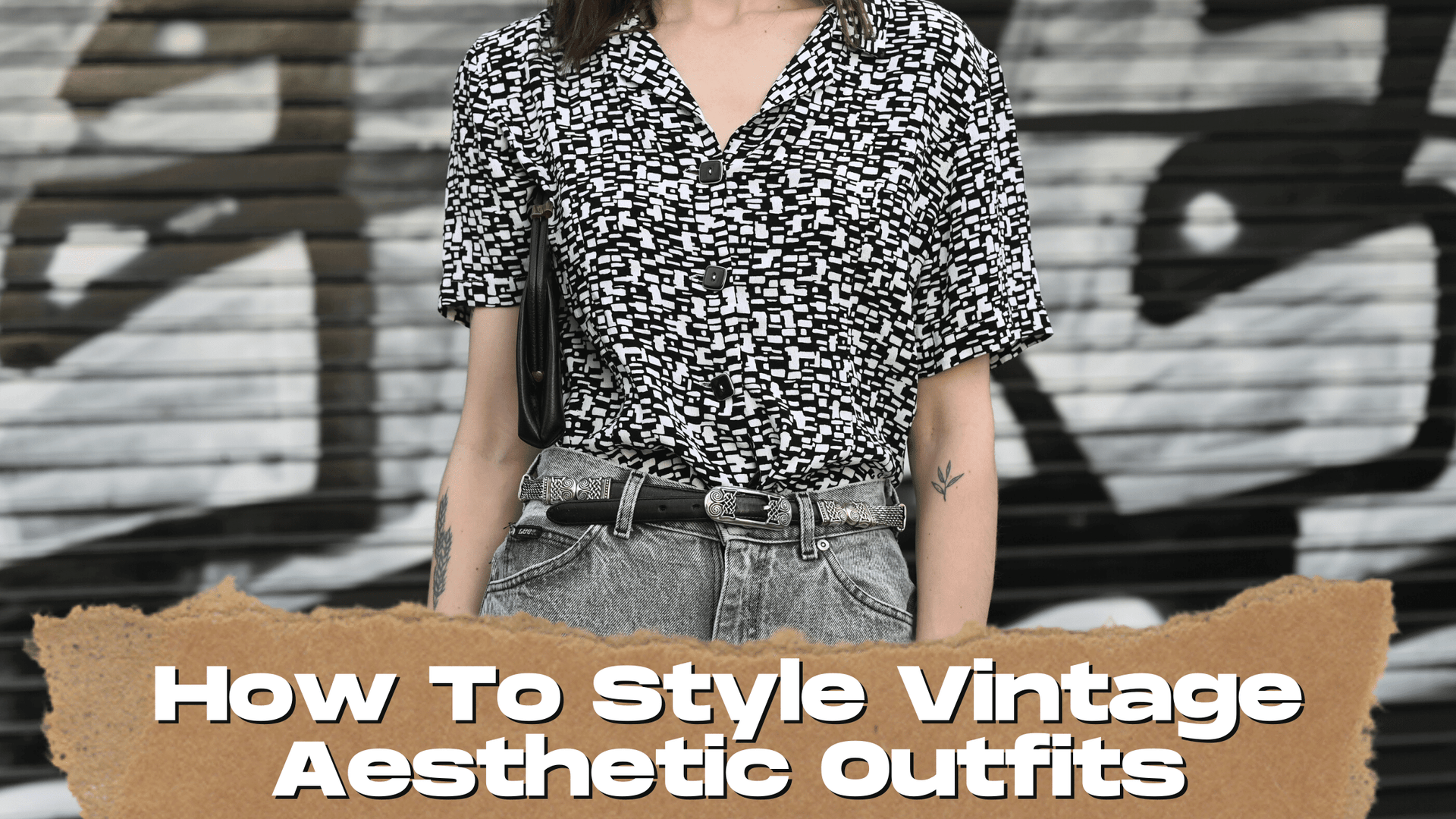 How To Style Vintage Aesthetic Outfits
The Greek root word "aisthetikos," which means "perceptual, sensitive," gave the term "aesthetic" its name.In philosophy, aesthetics is the study of beauty and taste. It encompasses art, music, and poetry appreciation as well as nature and everyday life.
Vintage aesthetic is all about recreating the feeling of a bygone era. It's about appreciating the beauty in things that are old or worn-in. Vintage aesthetics can be applied to fashion, home decor, and even your lifestyle.
Aesthetic pluralism is the new norm, and it's something that I, as a millennial, am totally here for. No longer are we confined to one musical genre or fashion style - we can mix and match to our heart's content. Whether it's wearing gothic lolita one day and hip-hop the next, or listening to Britney Spears one day and Iron Maiden the next, we can express ourselves in any way we want. And that is amazing.
Aesthetic diversity is something that I think is really important, because it allows us to express ourselves in whichever way we feel most comfortable. Whether you're into punk, goth, rap, metal, pop, or any other aesthetic, you should be able to express that without judgement from others. So go out there and rock whatever look you want, because you're sure to look fabulous no matter what!
How to dress with a Vintage style?
To get started with your vintage aesthetic, the best thing to do is to visit some vintage shops or charity stores. You'll undoubtedly discover some one-of-a-kind and genuine items that will assist you in achieving your desired appearance.
If you're having trouble coming up with ideas, check out some of the greatest online secondhand stores. They display their products flawlessly, so you may easily steal outfit suggestions from them.
With a little effort, you'll be nailing the vintage aesthetic in no time!
What Are the Various Outfit Aesthetics?
One of the most popular style trends among millennials is the aesthetic look. An aesthetic is a particular style that someone enjoys and identifies with. It can be based on a certain era, color palette, or type of clothing. Some examples of different outfit aesthetics include vintage, grunge, and preppy.
Different people will have different outfit aesthetics based on their own personal preferences. However, there are some general trends that can be seen among millennials. For example, many young people are drawn to vintage aesthetics because they offer a more unique and individualized look. Grunge aesthetics are also popular among millennials, as they allow people to express their edgier side. Preppy aesthetics continue to be popular as well, especially among those who want to create a classic and timeless look.
Now, let's get some set ideas and have a quick look at the various aesthetics of the past few decades.

Casual Aesthetic
The Casual Aesthetic is a fashion style that is characterized by relaxed and comfortable clothing. It is often seen as a more laid-back alternative to other styles such as the Preppy look.
Casual Aesthetic style is all about being comfortable and effortless. The key to nailing this look is to mix and match different pieces to create a relaxed and carefree vibe. Think ripped jeans, oversized sweaters, and sneakers.
This style is perfect for everyday wear, but can also be dressed up for more formal occasions. To do this, simply add some statement pieces such as a leather jacket or a flowy dress.
Whether you're headed to the gym or out for a night on the town, the Casual Aesthetic is the perfect way to show off your personal style. So go ahead and experiment with different pieces until you find your perfect look!

Y2K Pop Punk
Y2K Pop-Punk is making a comeback and we are here for it! This unique style combines the best of both worlds – the edgy, punk aesthetic with the carefree fun of pop culture.
It's like 2002 Paris Hilton, but with a dark spin. It has the vibe of everything fashion being given a contemporary twist, and no, we aren't complaining.
This unique style is the perfect way to stand out from the rest. Whether you're at a punk show or just hanging out with friends, you're sure to turn heads with your Y2K Pop-Punk style.
So what are you waiting for? Get on board and embrace your inner pop punk!

Baggy Clothes Aesthetic
Baggy clothes are having a moment right now and we are totally here for it. This aesthetic is all about oversized, relaxed silhouettes. It's the perfect way to dress if you're looking for something comfortable yet stylish.

One of the best things about this look is that it can be dressed up or down depending on how you style it. Pair some baggy jeans with a cute crop top for a casual day out, or dress up a baggy shirt with a skirt and heels for a night out. No matter how you wear it, you're sure to look cool and comfortable in this trend.

So if you're looking for a new aesthetic to try out

Grunge Aesthetic
The grunge aesthetic is an edgy, urban style that emerged in the early 1990s. It is characterized by dark colors, ripped jeans, and layers of clothing. Grunge fashion is often associated with punk rock and hip hop culture. The aesthetic is also sometimes referred to as "gothic" or "punk."
The grungy style was often considered a reaction to the glitzy, materialistic trends of the 1980s.Grunge fashion is more casual and relaxed than other looks of the time. It emphasizes natural beauty and individuality.

Softcore Aesthetic
If you want to try out the Y2K trend, but in a subtle way, may we suggest you check out softcore aesthetic outfits? These looks are inspired by the early 2000s, but with a modern twist. Think low-rise jeans, babydoll dresses, and crop tops. But don't forget the accessories! A pair of chunky heels or platform sneakers will complete the look.

Whether you're going for a night out or just hanging out with friends, softcore vintage retro aesthetic outfits are sure to turn heads. So don't be afraid to experiment with your style and have some fun!

Vintage Retro Aesthetic outfits
The vintage aesthetic is a popular style that combines elements of the past with the present. This look can be achieved by wearing clothes that are inspired by the styles of previous eras. Vintage clothing can be found at thrift stores, consignment shops, and online retailers. To create a vintage outfit, start by choosing a few key pieces like a dress, blazer, or skirt. Then, add accessories such as a scarf, hat, or jewelry to complete the look. With a little bit of effort, you can create a stylish and unique vintage outfit that is sure to turn heads.

Pastel Retro Aesthetic Outfits
One of the most popular looks from the 1980s is making a comeback in a big way - pastel retro aesthetic outfits are all the rage right now. Whether you're channelling your inner Madonna or Cyndi Lauper, there are plenty of ways to rock this look.

Here are some tips for putting together the perfect pastel retro aesthetic outfit:

1. Start with a basic 80s silhouette. Think high-waisted mom jeans or a denim mini skirt.

2. Use your top to add a pop of color. A neon tank top or crop top is the perfect way to add some pizzazz to your outfit.

3. Layer on some funky accessories. Oversized sunglasses, a beaded necklace, and a colorful scarf are all great options.

4. Finish off your look with some 80s-inspired shoes. Platform sneakers or lace-up boots are perfect for this style.

With these tips in mind, you'll be able to put together the perfect pastel retro aesthetic outfit in no time. So get out there and start shopping!

Skater Girl Vintage Retro Aesthetic Outfits

The skater girl aesthetic is all about being cool, confident, and stylish. This vintage-inspired look can be achieved by pairing some key pieces together. A good place to start is with a pair of high-waisted denim shorts. These can be cuffed at the bottom to show off your ankles and pair perfectly with a cropped top. A denim jacket is also a great way to add some edge to your skater girl outfit to complete the look, add a pair of plain white Converse shoes. You're ready to go now!
One of the best things about the skater girl aesthetic is that it's super versatile. You can dress it up or down depending on the occasion. For a more casual look, pair your denim shorts with a tee or tank top. If you're looking to dress things up a bit, try pairing your shorts with a blouse or button-down shirt. You can also add some accessories to your outfit to really make it your own. A scarf, hat, or statement necklace can all help to pull your look together.
The skater girl aesthetic is the perfect way to show off your unique sense of style. So go out there and rock it like you mean it!